Ooze #5
Special Nerd Issue --------------------- Summer '95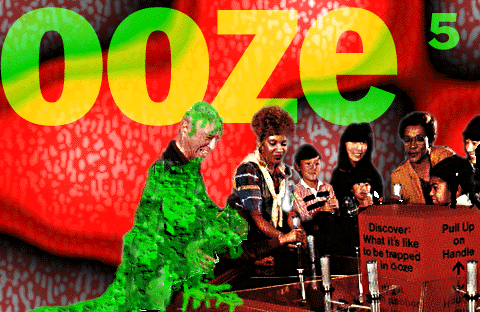 ---
Ooze is the culmination of all human history boiled down into one file. In previous issues, Ooze has covered the war in Angola, outlined an inexpensive way to feed the world, and proven the existance of a higher being.
Read these fine reviews of previous editions of Ooze:
If you're offended easily, you still might want to read this e-zine... kinda cheesy, but there's a big market for this kinda cheese in our country. --Chris Oakes review in ZiffNetMac

The first time I received oOze I skimmed over it, thought it was lame and deleted it. The next time I [read it] I thought it was brilliant. Seems to be put out by an assortment of snarky 15-year-old cynics. -- !*@# [Exclaim magazine] March issue< P> Rating: *****
-- America Online Multimedia Forum Listing for Ooze #4

Articles from Ooze #1 and #3 are reprinted in the real print book, INTERNET INSIDER from Osborne/McGraw-Hill by Ruffin Prevost

Read Ooze today for the sake of the children!
---

FROM THE EDITOR'S DUMPSTER

MEET THE STAFF!

THE LOVELY LETTERS IN OUR MAILBOX

OOZE INDEX

YOU WILL

REJECTED METAPHORS FOR THE INFORMATION SUPERHIGHWAY

A NICE PICTURE

I'M A BAD NERD

COOLUMBIA HOUSE OF VD

FAME IS JUST A NAME AWAY

HAPPINESS IS A HUMAN HEAD

READER POETRY

A WEEKEND IN THE COUNTRY

SCUM-TV

THE DAY I GOT TO BE SATAN

EVERYTHING I EVER NEEDED TO KNOW... I LEARNED IN MY MOTHER'S WOMB

WHERE IS OOZE?

STUPIDEST MAC SHAREWARE

WEB NOTES

Go Back To The : Ooze Home Page

Ooze Magazine
The Journal of Substance, Wit,and Dangerous Masturbatory Habits