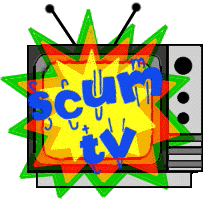 With the OJ Simpson trial monopolizing TV programming, it makes sense to turn to other real-life dramatic personalities for our entertainment. It's cost effective, and these people ARE interesting. Why pay through the nose for big name talent when you c an get bona fide larger-than-life criminals and deviants for your show? The Turner/ Murdoch group has launched this proposal for what they call SCUM-TV. If psychotics can capture the masses of the media with their real life events, why not channe l that "star power" in vehicles designed specifically for their talents?

MY MOTHER, THE RENTED TRUCK FILLED WITH FERTILIZER AND FUEL OIL---Comedy
Three wacky survivalists from Michigan (Jm. J. Bullocks, Tony Randall and Jimmy Walker) plot to destabilize the government each week with a campaign of terror. But Tony Randall's Mom's spirit is stuck inside their rented truck and is always drivin g to zany places instead of their intended targets! Watch for a guest appearance of all the Elders of Zion when the crew mistake these leaders of a world-wide conspiracy for simple FBI agents!

IN SEARCH OF...---Occult/Science Fiction
Each week, John Wayne Bobbit's penis is again severed and hidden in an exotic tropical local. Join hosts Leonard Nimoy and Masters and Johnson as they travel to the Bermuda triangle, the tundra of Antarctica, and maybe even your china closet... All in se arch of one man's misplaced appendage.

HE'LL SNAP AT ANY MOMENT!---Comedy
The Zucker Bros. bring you Jaleel White as Young O.J. Simpson: A wacky, zany, mentally unbalanced young college football player. In the pilot, O.J. can't decide whether to lateral to Namath or put a bullet through his skull. Leslie Nielsen and George Ke nnedy co-star as Voice Coach and Coach House.

MENENDEZ, P.I.---Adventure
Stephen J. Cannell presents Lyle, Eric, and a nerdy scientist named "Boz" teamed up to solve crime! They wear Hawaiian shirts, live in a houseboat, and brutally kill anyone who tries to get on board. Jerry Stiller and Anne Meara play the voices of their constantly kvetching, constantly dead parents.

MUSLIM EXTREMIST BANDSTAND---Music
Sirhan Sirhan, Mommar Quaddafi, and Dick Clark bring you this fast paced combo of preachin' and dancin', where if the record's a bomb, you'll know it! Pearl Jam, Aerosmith, and the Rolling Stones are scheduled to appear, under penalty of death. Check ou t the cute chicks wrapped from head to toe in sexy, traditional Muslim garb. Who knows what secrets lurk beneath those sheets!

FULL HOUSE (OF FREAKS!)---Comedy
Bob Saget gets locked in the mental ward with some very distinguished company: Charles Manson (Ted Danson), The Woman Who Keeps Breaking Into David Letterman's House (Glenn Close), and yes, John Stamos as the wacky Unabomber. There are el even kids in the premiere episode, and by the end of the season, there are none. You figure it out. Randy Newman guest stars as the spirit of David Koresh as conjured up through an Ouja board.

THE DAY I GOT TO BE SATAN


Back to document index

Ooze Magazine
The Journal of SSubstance, Wit,and Dangerous Masturbatory Habits