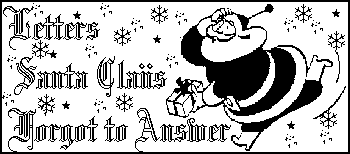 Ho Ho Ho!
Today, Boys and Girls I want to address an important issue. This year, my elves have brought a number of your pleas to my special attention. Santa couldn't take the time to answer these before Xmas, but now that it's long over I can safely address your concerns. It seems some of you children are very disturbed and need some help.
Dear Santa:
What is sex like? When I see it on TV, they never really explain what is going on. I want a shiny, new mountain bike.
Love,
Mikey
Dear Mikey:
After I delivered all the presents to the little boys and girls of the world, Santa flew back to his North Pole warren to take a long-deserved break. I parked my sled in the garage, entered the house, took off my boots and immediately snoozed by the fire. I couldn't tell how much later in the sunless arctic winter, but I awoke to the cold touch of probing hands. These things never happen to me. I'm an older, slightly overweight man with silver hair and a twinkle in my eye. I couldn't quite make out her figure in the faded light, but she was bare, and ready. My belt popped off and fell to the ground. My signature cap, thrown asunder. She comes to me, her timeless body aching for my package. She's been a good girl, and I checked her twice to make sure. Her twin sugar plums danced around my probing tongue.
My creature was stirring, and she sought it for her own kind of caroling. She slid down my chimney, then up, then down again. Forget Dasher, forget Dancer, forget Comet, Cupid, Vixen and the other erotic adult entertainers I've known, only one woman knows me inside and out. As the alcohol from the figgy pudding clouded my brain I realized, that through all the excitement of my yearly ritual, I just wanted a shiny, new mountain bike.
-S.
Dear Santa:
I sleep in hay. Mommy is dead. Daddy forgets who I am and then calls me 'shoe'. The nice men on the streets of Sao Paulo gimmie treats sometimes. After they beat me. But that's OK. My bestest friend is a one legged donkey named "Stumpy". Usually I eat dirt. Can I have a Buzz Lightyear action figure from the movie "Toy Story" for Christmas?
Love,
Ralfonso H.
Dear Ralfonso:
Walt Disney Pictures presents "Toy Story", a wonderful film for children of all ages. It stars the vocal talents of Academy Award winner Tom Hanks and funnyman Tim Allen, who incidentally played ME in the delightful film, "The Santa Clause" not too long ago. "Toy Story" features computer animation that is really something, and the songs by Randy Newman are swell.
Despite the donkeys and dirt, I regret that I can not deliver a Buzz Lightyear action figure to your little puddle of squalor in San Paulo. As you know by now, it is AFTER Christmas, and the toys have already been given out to the cherubic boys and girls of the United States of America, who always get top priority. Sometimes life isn't fair, Ralphonso. And you are doomed.
-S.
PS: "Santa" is a fully owned trademark of the Disney Corporation and may not be used without permission.
Dear Santa:
We got the elves, and we want the goodies. Leave your sack of gifts down on Main and 7th. And no funny stuff either. That red-nosed freak wanted to be a hero, and now he's just snack meat for some Laplanders.
-Big Louie
P.S. Please give me some McDonald's Gift Certificates.
Dear Mr. Big Louie:
Good! Waste those elves. They have defied me. Spray their bloodied carcasses all over the lower East Side! Pump 'em full of lead in front of Sparks' Steak House! I don't give a rusty sled.
-S.
P.S. The McDonald's Certificates are on their way. I suggest trying their McRib sandwich. It's really delicious.
---

QUOTABLE QUOTABLES

Back to Ooze #7 index