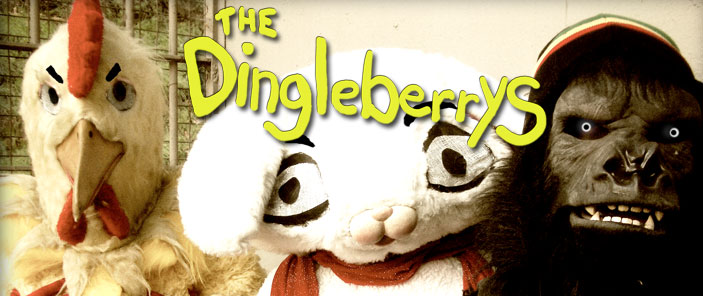 THE DINGLEBERRYS IN: THE AGONY OF DE-FETUS - EPISODE 1 PART 1

right click to download FULL RESOLUTION mp4 video (35 MB)
If you LEFT CLICK this option, you will see a stream of text. NOT a video.
THE DINGLEBERRYS IN: PARTY TO PARTY (TO PARTY) - MUSIC VIDEO 2:00

Who wants to party? Let's party, to party! But are you ready to party, to party, to party?
SUICIDE TAPE BY DINGLBERRY FAN - COURT DEPOSITION 1:00

After listening to ther song, CHOKE THE CHICKEN 'TILL YOU DIE, a fan made this tape and killed himself. The Dingleberrys claim no legal responsibility.
Visit our myspace BLOG.
We blog all day and PARTY all NIGHT!

SUPER-SIZED Epsiode of The Dingleberrys!
The AGONY of DE-FETUS - PART I
It's like a TV show, only shorter.
The Dingleberrys - a rockin' Bunny, Chicken and Gorilla, live under the 101 freeway in a self-storage unit. After playing a kick-ass show at some Hollywood Hipster party, Bunny gets an unexpected visitor who tells him that after they were together, she hasn't gotten her monthly visitor. What will Bunny do?
Go To Movie Download Page - Running Time: 4:30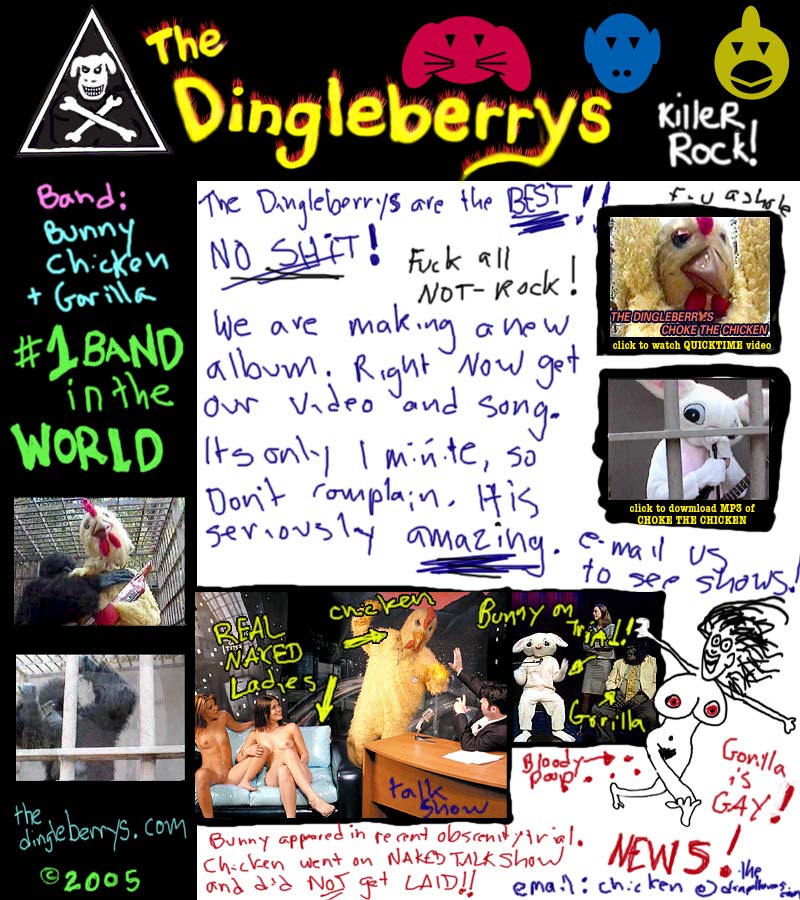 Make us your MySpace Friends and ROCK the UNIVERSE!

Hey! Click below to read our MYSPACE BLOGs!!!!
The Dingleberrys are a very rockin band that makes glands shake, balls rattle,
and heads deflate. They are no punks. They've been LIVE on stage in Los Angeles,
their video shown on SkyTV in England, and they've performed animal boxing in
nightclubs. No one has ever paid them to perform music. Extreme VIDEO for sale. More songs posted soon.